ECO-PUL; Waterproof Grade ProSoft PUL
Safe, long-lasting, & environmentally friendly!
So safe you can literally eat off it, ProSoft ECO-PUL is very versatile and long-lasting with a life cycle of 300+ washings. Manufactured in modern, quality-controlled, American textile facilities, it is 100% CPSIA certified, 100% eco-friendly and Food Safe tested.
We start with a safe polyurethane film and permanently bond it to our top-selling fabrics using a unique thermal process without toxic solvents. The process does not emit any toxic wastes or VOCs that are harmful to the environment. Available in 50+ colors and prints!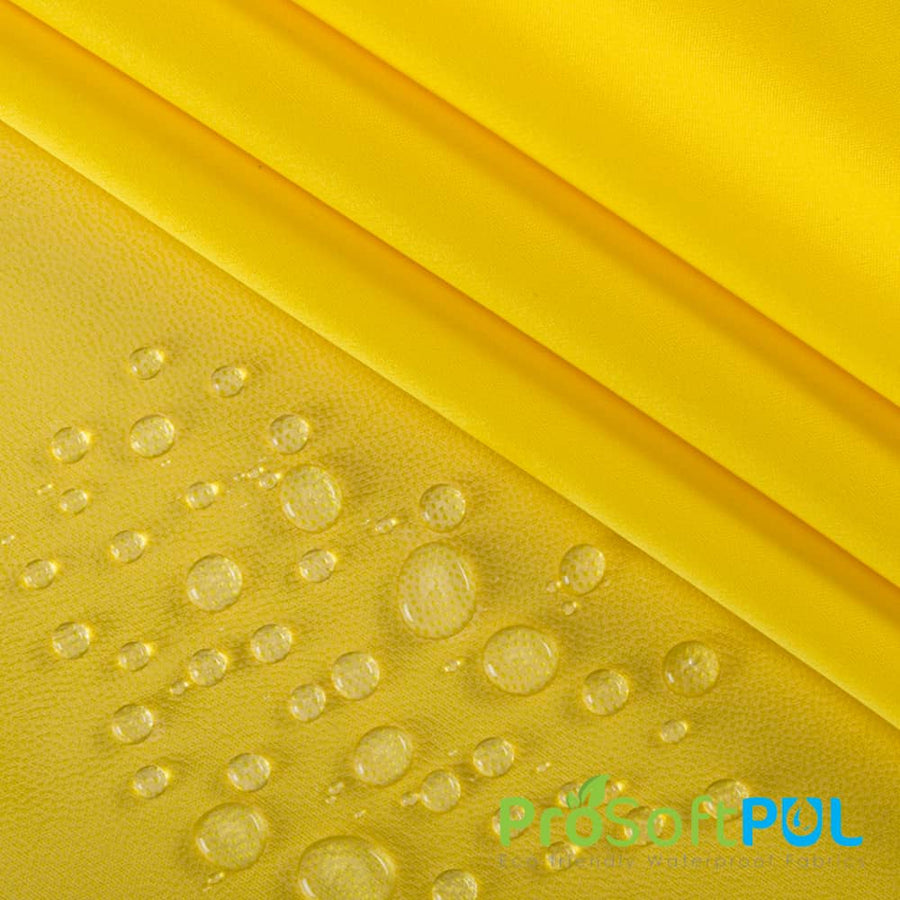 Waterproof fabric that outlasts the others
Incredibly versatile, our waterproof PUL fabrics are designed with a long life cycle in mind. They are 100% eco-friendly, food-safe tested, and come in over 50 colors and prints!
Specially-treated waterproofing layer
Our unique process permanently melt-bonds our specially-treated TPU film to the fabric without toxic solvents.
Breathable, flexible, and incredibly soft
We use a proprietary blend of materials specifically engineered for high performance and comfort, leaving our fabrics super soft.
Safe to use for you & the environment
100% Free of PFOS, PFOA, lead, dioxins, heavy metals, BPA, and phthalates. CPSIA-certified for lead, phthalates, and flammability.
Your #1 choice for unbeatable waterproof layers
ProSoft ECO-PUL can be used for:
Recycled ECO-PUL
Made with recycled bottles.
1 mil ECO-PUL
The standard ECO-PUL fabric.
2 mil ECO-PUL
Perfect for heavy-duty applications.
5 mil ECO-PUL
For ultra heavy-duty applications.
Antimicrobial ECO-PUL
Designed and made with silver protection.
Bamboo ECO-PUL
Soft and silky with bamboo fibers.
Cotton ECO-PUL
Safe and 100% organic cotton design.
Stretch-FIT ECO-PUL
Made with unique 4-way stretch fabric.
Nylon ECO-PUL
Built to last with durability and stretch.
Lightweight ECO-PUL
Thin and extra breathable design.
ProECO
Premium quality & soft waterproof protection.
CORE ECO-PUL
Standard waterproof layer between fabrics.
ProTEC
2 outer layers of ProTEC fleece around 1-mil TPU film.
SILVADUR
Antimicrobial protection along with a moisture barrier.
ZORB
Superior absorbency and hidden waterproofing.
Sustainable, reusable, & affordable
Our company is dedicated to giving back to our earth by providing sustainable fabrics that help people & communities create.
Waterproof fabric that stands out
Versatile, durable, & incredibly soft.