Sustainability: Our Top Priority
Our mission is to create sustainable fabrics that are respectful to the environment
Reducing waste & protecting our environment
Our ProSoft fabrics are specially made to provide a safer, reusable option for waterproof products. Our goal is to help reduce and eliminate society's dependence on disposable products.
We are committed to caring for our planet, caring for our people, and caring for you. 
How we work to care for the planet:
Creating durable, reusable waterproof fabrics
We melt-bond specially-treated TPU film to our fabrics for a highly-durable protective waterproof layer.
Eco-safe manufacturing processes
We closely monitor our textile facilities in order to use EPA-compliant processes that don't pollute the environment.
Using materials without harmful chemicals
There are no PFAS, PFOA, lead, dioxins, heavy metals, BPA, phthalates, formaldehyde, or nanoparticles in our fabrics.
Safe working conditions & fair labor practices
Our American facilities follow all labor laws and provide our employees with safe workplace practices.
Sourcing materials locally made in the United States
Many of the fibers and yarns we use are sourced directly from local mills here in the United States.
Partnering with responsible & sustainable vendors
All of the partnerships we work to establish are done with an eye towards greater sustainability for all of us.
Waterproof fabric you can feel safe using
When you shop with us, you can find peace of mind knowing that all our fabrics are kind to our planet, to families, and to communities.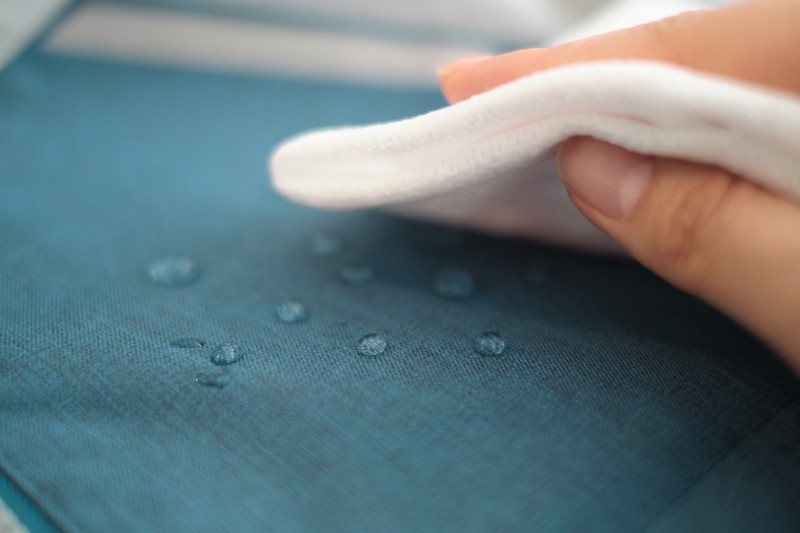 committed to sustainability
Reliable bonding that lasts a lifetime
We don't use adhesive to bond our products – those run the risk of wearing off and detaching from the fabric after a number of washings like many water-resistant products. 
Our ProSoft PUL fabric is created with a heat bonding process, connecting the TPU waterproof film directly to the fabric. This ensures your end product will provide a lifelong moisture barrier that is unbeatable.
Waterproof fabric that stands out
Versatile, durable, & incredibly soft.